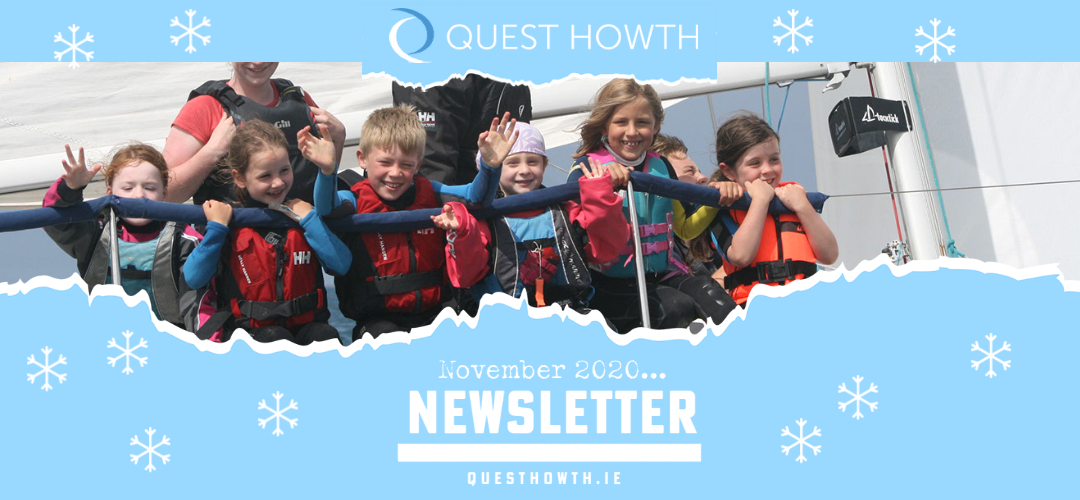 Click to read our Newsletter
Schedule for Summer Courses for 2021
We are delighted to announce our preliminary dates and course details for summer 2021 – see schedule below.   We will be uploading pricing and further details in January 2021 and will officially open for bookings before the end of February (watch this page for launch details). For the moment, the schedule is being planned in line with the Government Level 2 policy and but we will expand the number of courses if restrictions allow. Please note that all courses listed are subject to Covid restrictions lifting and Quest Howth being in a position to run these courses safely within the guidelines in place when the courses commence. We will communicate any changes directly with you as soon as we have any updates and will refund any fees received in the event we are unable to deliver any courses which you have booked and paid for. 
There are lots of options for your kids to learn to sail, have fun and make new friends at Howth Yacht. We invite children aged 6 to 17 to discover the excitement and the joy of sailing, which can become a sport for life. Our courses, run by qualified instructors, are accredited to the national governing body for sailing, Irish Sailing, and are held in the safe waters around Howth and Ireland's Eye.  Most children enjoy participating with their friends, so why not liaise with your child's friends' parents or guardians to try and enroll them on the same courses to get maximum enjoyment, however if this is not an option, do not worry our qualified instructors will make sure they have a great experience and meet new kids.
All Quest Howth course participants can avail of our Fun Fridays which offer lots of great activities for Juniors outside sailing courses during the summer including trips to the island, Robinson Crusoe, Try Kayaking, Paddle-boarding, Try Scuba and lots of other fun events.
For more information on the benefits of joining Howth Yacht Club click here