Corporate Sailing
Discover the company event that's truly a breath of fresh air.
Quest Howth offers a unique, challenging and rich experience sailing in the picturesque waters around Howth, Irelands Eye, Lambay and further afield as skills are developed. Working directly with your company or through your Sports & Social Club, Quest Howth will develop a programme based around our successful Adult Sailing Courses, Fun Sailing, Club Racing and Regattas.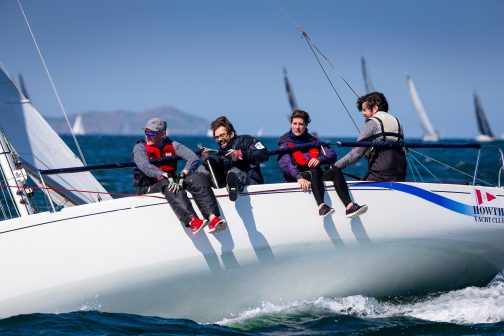 Our aim is to provide life experiences that will challenge, develop and provide a social dimension for your employees that is difficult to create in the workplace.
With a focus on high professional standards, accredited to both Irish and British national sailing associations, close tuition and support with the best Instructor/participant ratios, Quest Howth provides an exceptional and life enriching experience.
Sailing has the potential to make a significant contribution to the workplace. The benefits for personal employee development and team building skills are widely acknowledged, however, working with Quest Howth also brings the opportunity to create:
Incentive and Reward Schemes
Access to the Facilities of Howth Yacht Club Conferences, Training, Off-site Meetings and Entertainment.
Corporate Membership to enhance the experience of employees assigned from abroad and as a reward for employees who can access Howth Yacht Club facilities to crew and entertain their family and friends.
Working directly with your company or through your Sports & Social Club, we will devise a corporate sailing team building activity programme based around our successful adult sailing courses, fun sailing, club racing and regattas. We can also offer pre-sailing refreshments, brunch or lunch plus transport to and from our venue. Once you step back on dry land your company can avail of scenic  après-sailing facilities with our indoor and outdoor bar areas as well as top class food service from high end bar food to fine dining in our Asgard Dining Room. There are no limits as to what we can do for you. For a more detailed proposal contact Christina Knowles (c.knowles@hyc.ie).
Why not invite your team or clients out for an afternoon? We can arrange everything to ensure you have a top class sailing afternoon starting with lunch, up to 3 hours sailing on the water followed by drinks in the bar and food. We can also arrange transport to and from our venue and we supply top class sailing gear and buoyancy aids for all participants. Ideally we recommend a minimum of 8 and a maximum of 30 in your group but we can run two groups of 30 in a day and add on a range of additional activites to fill your day and keep everyone busy having fun on and off the water.
Our activites are guaranteed to challenge your employees or colleagues, and create a social dimension that is impossible to achieve in the workplace.
Personal development, team-building, bonding… the benefits of group sailing activities are widely recognised. However, with Quest Howth, you get even more.
The opportunity to create incentive and reward schemes
Access to the facilities of Howth Yacht Club for conferences, training, off-site meetings and entertainment
Attractive corporate membership arrangements