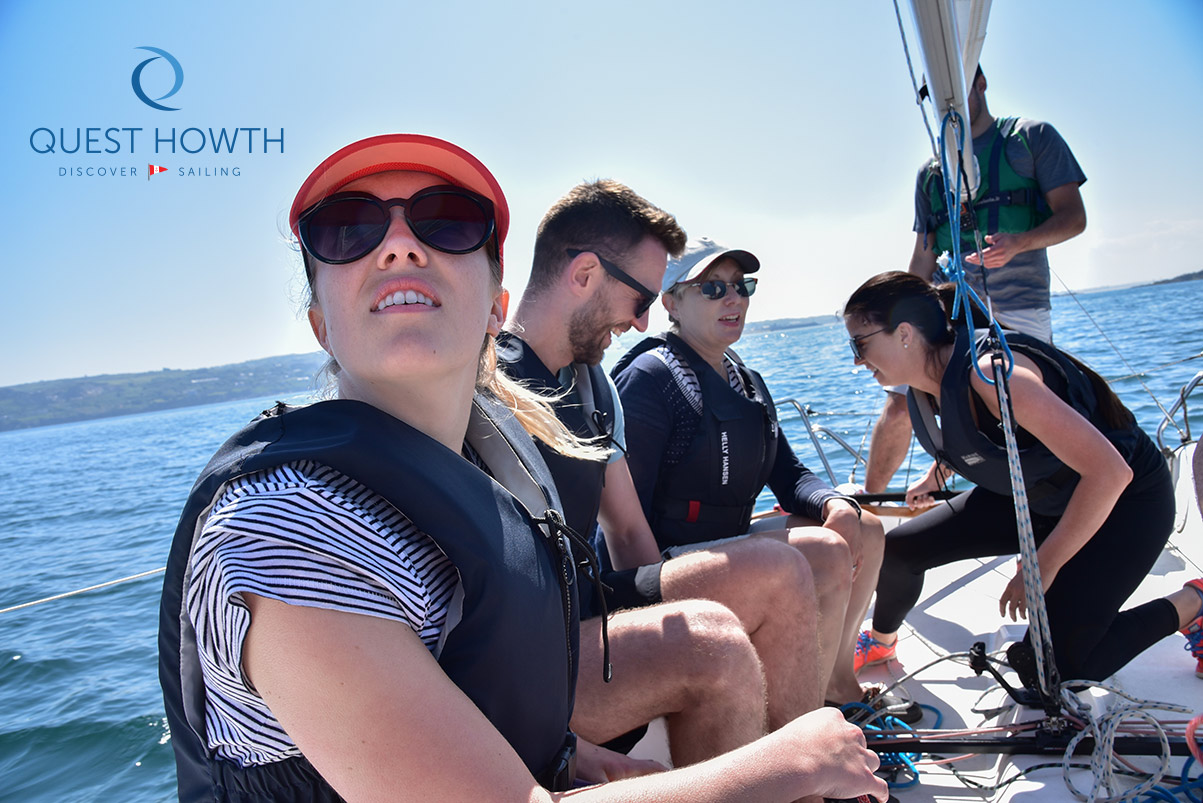 It's new, it's fresh out of the water and launched. Welcome to Quest Howth – Discover Sailing online. We are delighted you landed here ready to pursue a new sailing quest that can bring purpose to your life. The Quest Howth team deeply believe sailing can fundamentally change your life for the better. Not only is sailing a sport for life, you gain new life-skills that can be applied to real world challenges.
First and foremost, a quick summary of what to expect in future posts and why you should bookmark this very page, Quest Howth's Blog right now. The Quest Howth – Discover Sailing Blog is your one-stop-weekly sailing resource for everything sailing. We will be bringing you all the latest Quest Howth sailing news direct from the new Quest Howth office right here at Howth Yacht Club.
Our mission, to open sailing opportunities to everyone willing to travel to beautiful Howth.  We have a wide spectrum of adult sailing courses that is sure to cover all your needs and now available for online booking. Adult sailing courses at Quest Howth have a strong emphasis on the adult complete beginner and we send you on the a sail training path to get you out on the water learning new sailing skills on our courses. At Quest Howth, we believe, that the "Apres Sailing" is as important as the sailing itself. Every Quest Howth participant can avail of Howth Yacht Club's facilities throughout their sailing course duration. Adult Sailing Courses at Quest Howth range from complete beginner sailing courses to advanced sailing courses. All our courses are Irish Sailing accredited which certifies you along the recommended Irish Sail training pathway.
Although, our Junior Sailing Courses are full for 2018, we are open to booking all junior sailing courses for 2019.
Quest Howth's Blog Star Guests
Not only will Quest Howth post regular informative blogs on all aspects on sailing, we will also feature regular guest bloggers who are expert sailors in the Irish Sailing world. We are delighted to announce our first star guest blog contributor, legendary Radial Laser, Aoife Hopkins who has agreed to share her 'Successful Sailing Journey' with us here at Quest Howth's blog. Stay Tuned.
Quest Howth Vlogging
Also, four Cara Na Mara sailing participants have agreed to feature in a video diary of their sailing experience each day on Quest Howth sailing courses. We an Otter and a Seal on board to share their story. We are still looking for volunteers to represent Cara Na Mara's Dolphin and Orca group. If you or your child would like to get involved call us at the Quest Howth office at 01 – 832 0602 or email us at Quest@hyc.ie
Winter Sailing Programme
Quest Howth – Discover Sailing promised a new sailing experience with plenty of après sailing socialising activities for all newcomers interested in starting sailing. To ensure this is a continuous one and that we keep all our Quest Howth participants engaged, we are launching a new Quest Howth Winter Sailing Programme. Some of the best sailing in Ireland takes place over the winter months especially up to December. Although temperatures do drop and with the right sailing gear, many a winter's day sailing brings sunshine and good strong steady winds. Winter sailing is challenging but also exhilarating and rewarding. Lots of sailing lessons are learned in these challenging conditions making summer conditions a breeze. To run along side our on-the-water Quest Howth Winter Sailing Programme is a broad range of theory sailing courses on land. It's a great time to brush up on navigation skills, VHF Radio, ICC and sailing theory. So sign-up to our newsletter to keep you up to date on all Quest Howth Winter Courses to come.