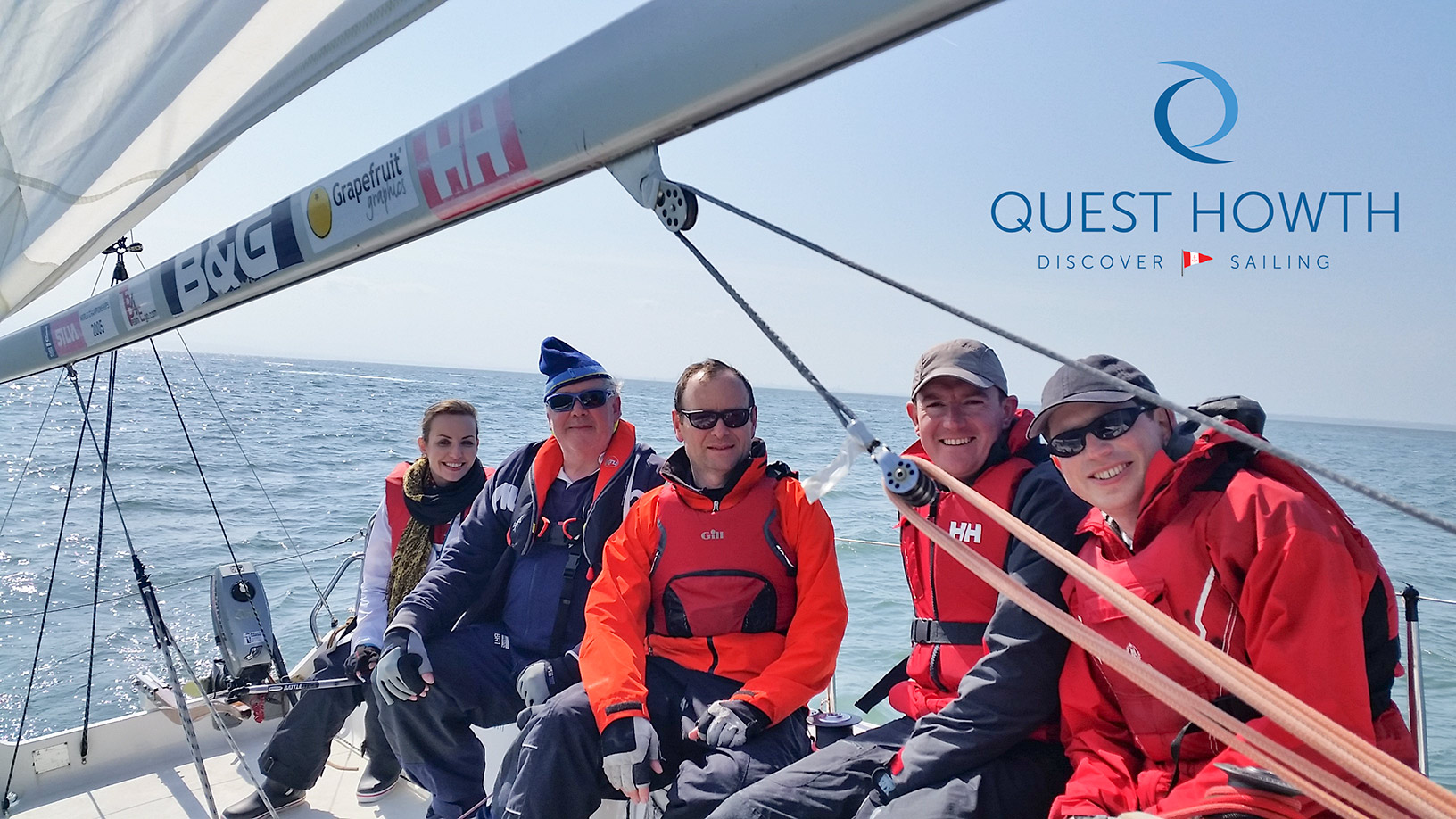 Managers today, find the corporate workplace radically altered, driven by new laws, compliance and policies that often compete with their primary business objectives. Many employees operate in high-performance work areas, using the latest cutting-edge technology in co-worker engagement environments. It doesn't stop there! The rate of change is on-going and ever demanding.
Quest Howth – Discover Sailing have launched a range of new corporate sailing packages to differentiate your company or team, enhance your performance and show you how to demonstrate your leadership skills? We help you to value people and achieve success in this challenging environment by;
• Reward and encourage the best behaviours.
• Focus the organisation in its teams on achieving key objectives
• We engage with our employees and demonstrate we vale their contribution
The Gallup Meta-Analysis in 2016 revealed that companies with high levels of employee engagement demonstrated a 20% difference in productivity, 41% difference in absenteeism and a
21% increase in profitability. Similar benefits were seen in increased sales, customer satisfaction and staff-turnover delivering high performance and a much more positive working environment.
How can Quest Howth – Discover Sailing strengthen your company goals?
Sailing is a fun structured activity, often challenging where desirable behaviours often demand immediate and obvious outcomes. Most companies who focus on employee engagement want to acknowledge and reward;
•Team work
•Individual Performance
•Customer Feedback
•Initiative
•Sales Achievement
Working with the Quest Howth team you can reward staff, enhance employee engagement, demonstrate best working behaviours  and deliver sustainable results across your team. On the water Quest Howth provide a fun, safe and exhilarating experience aboard our fleet of J80 Sportsboat's or Rigid Inflatable Motorboats (RIBs) under the experienced eye of a fully qualified Irish Sailing  skipper/instructor.
After sailing enjoy the world class hospitality facilities of Howth Yacht Club, one of the finest yacht clubs in these islands or incorporate the event or program into a meeting, conference or training & development using our conference and meeting facilities. Working with you the Quest Howth team will help you create a customised and focused schedule to augment and reinforce your employee development programs and objectives in a short focused day
or a longer program. It is no wonder that whilst horse racing may be the sport of kings, yacht racing is one of the most popular sports for successful entrepreneurs across the globe.
The reasons are simple. There are numerous variables, including wind, waves and weather, to consider and precisely plan . This requires a combination of skills to execute accurately  in a constantly changing environment. Sound familiar?
Enquire about Quest Howth's Corporate Sailing packages
Ian Byrne
Quest Howth Team
Vice Commodore,
Howth Yacht Club